RETREATS AND INTERNATIONAL SUMMER MEETING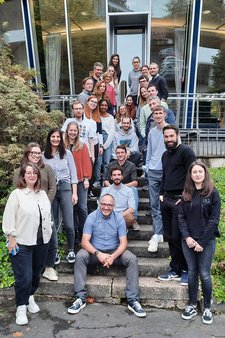 In the second year, our doctoral candidates organize an internal retreat. All members of the RTG, DCs and PIs will travel to a remote location outside of Cologne for two days to discuss the PhD projects in an informal atmosphere. To enhance the scientific exchange, our students do not only present their research by giving oral presentations but also during poster sessions.
At the end of the third year, we will organize an international summer meeting in Cologne (or its vicinity) to expose our doctoral candidates to the wider international research community and to foster networking with external researchers. With support from the RTG-PIs and the coordinator, doctoral candidates will organize the major part of this event including the search for a location, setting up large parts of the program and acquiring additional funding. We will invite distinguished national and international guest speakers from academia and industry to provide a networking platform for our students.
---
Internal Retreat 2021
The first internal retreat was held from the 13th to the 15th of October, 2021 in Rösrath's GENO Hotel. The retreat was organized by our PhD students, with the first day dedicated to them exclusively. It featured a workshop in science communication held by Eva Mühle, discussion of the RTG's plans for the coming year, and an evening campfire at an old mill in the area. On the following two days the PIs were included and the PhD students gave presentations on specific methodologies used by their labs. In addition, they had the opportunity to discuss the current state of their individual research projects during poster sessions.